Payments have never been easier
Bizsys provides cheap and easy to use card machines for any type of business, of  any size. These card machines are small and mobile, meaning you can bring them anywhere you go and conduct business wherever you end are. We are partnered with SumUp and we stock multiple different SumUp card machines for example the Sumup 3G terminal or the sumup air. These card machines covers different needs and we are sure to have the one that matches you and your business. So if you are looking for a cheap card machine, and do not want to miss out on quality, you have come to the right place.
Unlike major card machine suppliers there are no contracts associated with any product that you can buy from us. There is only a single payment for your card machine, and that is when you purchase it. Alongside the purchase of any cheap card machine of ours will you be able to sign up to SumUp systems, for free, this is where you will be able to manage you business.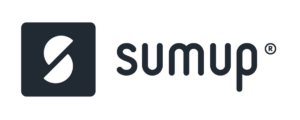 The card machines
We stock three card machines that are sure to fit right into your business, you can read more about these below. These card machines have no binding contracts attached to them, you only have to pay for them once, at a low price aswell. Once you start using your newly bought SumUp card machine will there be a transaction fee of 1.69% which is deducted automatically per transaction. We can however, if this might sound a little too high for you, lower the fee. All these card machines accept all the major credit and debit cards.
SumUp Solo
The pocket sized SumUp Solo is one of the most advanced card machines on the market. Designed with an intuitive touchscreen to allow a seamless payment experience for you and your customers alike. This device comes with a built in SIM card with unlimited data and Wi-Fi connectivity.
SumUp 3G
This card machine, like the Solo comes with a built in SIM card,  allowing it to be used anywhere. This machine also comes with a printer so you can provide your customers with a receipt of their purchases if they so wish.
SumUp Air
Our third and final card machine, the SumUp Air, is the card machine that comes with a POS-system, which is free on your smartphone or tablet. Unlike our other products, this is not a standalone device as it connects to your phone or tablet via bluetooth.
Do you have questions?
If you have any questions regarding shipping or fees, please do not hesitate to contact us. You can find our contact information by clicking the button below:
Looking for a simple POS system?
Take a look at the free POS system, it is an app you can use on your phone or tablet, allowing you to move around and manage sales. You can easily keep track of payments, orders and more. Click the button below if you want to know more about it:
With a quick touch with card or phone payments have never been easier.
Bring your card machine wherever you go and conduct business wherever you are.
It only takes minutes to set up and get ready to receive payments.