THE IMPORTANCE OF A STORE INVENTORY – JANUARY 31, 2019
When you start a new store, much of your focus is on what to have as an inventory. It is important for any shop owner to make his shop look as good as possible. Since 3/4 of all customers entering a store make impulse purchases, it is important that your store is comfortable so people should not make the effort to find out what you are selling and thereby lose the desire to explore your store.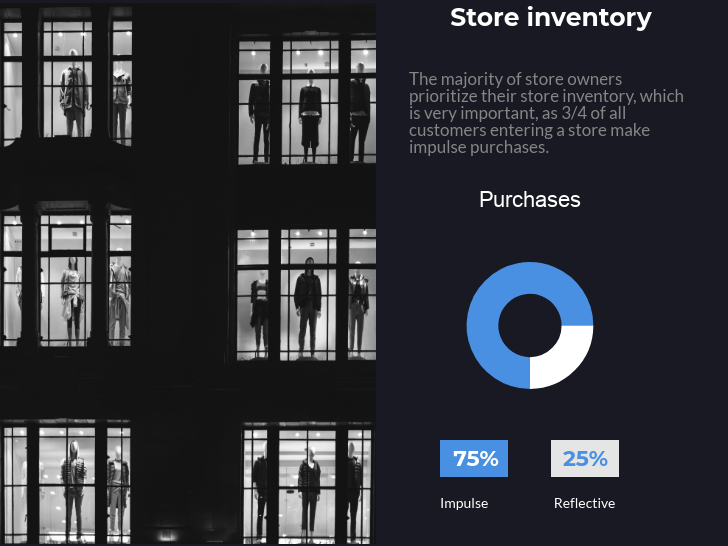 Interior design considerations can be essential
Going around thinking about which store inventory you need is important. First and foremost, one must start from the shop premises and consider which option is the most optimal. It is a good method to get inspiration from the web or other store premises that you think look good. But it is important that you have your store in focus while you let yourself be inspired.
Creating the vibe of your store
If you are standing with a large room, there may be several possibilities in relation to the decor, for example with different shelving and colors etc.. However, it may be a good idea not to fill the entire room with shelving or other fixtures and, instead, keep it minimalist. A large room can look unmanageable with too much different furniture. Make it look clear, so it does not seem like a laboratory technician for the customer. A small room also has many possibilities, it's just about being creative. There is the opportunity to create a small and cozy shop that your customers want to get into. It creates a different mood that many customers also like.
Show the right thing to the outside world
It has been proven that the chances of a customer making a purchase are greater, the longer the customer is in the store. Therefore, the store must be made as inviting as possible so that the customer chooses you rather than your competitors. Store inventory is therefore one of the priorities you have to prioritize, as it displays your shop outside and it can help to make the customer curious. It is best to adapt its design to the type of store you run, so it has the right design. It's all about what you want to signal to the customer when they come into your store, it must be something that tells something about what kind of store you run. As mentioned before, there must be a lot of focus on color, it is important that you use the right colors for your store, which can make the customer curious. Determine what you would like to signal outside, whether dark or light colors should be used. Dark colors give more tranquility where white colors signal activity in space. Especially yellow and red colors make people stop, as it signals stop and is used for sale or danger. Think a lot about what colors you want to use for your store, as it will signal a lot to the customer from your shop window.
Help for the decor can increase your turnover
It is important to get people to make impulse purchases in your store, since the majority of purchases are impulse purchases that occur when the customer is in the store, it is important to inspire the customer to buy more than they intended. It may well be worth choosing some professional help on how your store should be decorated, as much of one's turnover in the store is now from impulse purchases from the customer. It can be difficult to find out the optimal colors and the right shelving etc. for its store, so that it gives the perfect vibe to the outside. Therefore, it may be a good idea to invest in professional help for the interior design of your store.
Are there other important forms of store inventory?
In the search for getting the best and best looking shop furniture for one's store, one can easily get past other categories that are also important in relation to the customer's experience in the store, eg the throwing system. It is important for a newly started store to have a cash register system ready for the opening. This makes it easier and more manageable, for both the clerk and the customer, to complete the purchase already from the start of the store.
Bizsys' cash register system
We provide online checkout systems and cash registers that can help meet your needs, for an efficient business, where you can focus on your customers. We have an easy and clear cash register system that also includes a complete accounting program that allows bookkeeping, invoicing and inventory management. At Bizsys we offer a modern touchbox system that you can rent at a cheap monthly price. Our system can be customized to different industries and it runs in a web browser on a Touch PC, on your own PC or Mac, on an iPad or tablet – whatever you want to use.